Alims Seminar - Dar es Salaam, 1973
Alims Seminar - 1973 Hosted by Dar es Salaam Jamaat
A Seminar of Alims from Africa organized by the Federation of KSI Jamaats of Africa was held on 19th June, 1973 in Dar es Salaam at the Ebrahim Haji Dispensary Hall under the chairmanship of Al-Haj Ali Mohammed Jaffer Sheriff Dewji, the Chairman of the Tabligh Committee of the Africa Federation.
Seminar participants opined that it is the duty of all concerned (parents, Jamaats and teachers of Madressahs) to impart religious knowledge to the young generation in convincing and logical way so as to establish their religious belief and deeds on a sound foundation, and particularly in the wake of the new challenges that are emerging. It was also observed that there was a need of reformation in that majlises should convey the message of the religion of Islam and inculcate Islamic values to all, young and old, males and female alike. The importance of a modern approach and simple language in majlises was also emphasized.
On 11th June, 1973 the Alims and members the Tabligh Committee visited the Bilal Muslim Mission's head office at Temeke – Dar es Salaam. They were greatly impressed by the activities and achievements of the Mission. Among the visitors were Maulana Syed Amir Husain Naqvi (Majunga, Madagascar), Maulana Ali Mohammed Jaffer Dewji (DSM), Maulana Sheikh Ali Husain (Kigoma) Maulana Syed Murtaza Husain Rizvi (Arusha), Maulana Syed Sajjad Husain Zaidi (Bukoba), Maulana Sheikh Ghulam Rasool Najafi (Mwanza), Maulana Sheikh Riyasat Husain (Singida), Maulana Sheikh Mohammad Qasim (Mombasa), Maulana Mirza Mohammad Mahdi (Lindi), Haji Ali Sheriff Dewji (Arusha), Haji Mohamedali Sheriff Jiwa (Moshi), Haji Hassanali P. Visram (Arusha), Haji Gulamabbas Amersi (DSM), and office bearers of Bilal Muslim Mission.
Below: Group photograph of the participants of Alim's Seminar taken at the KSI Jamaat Imambargha compound in Dar es Salaam.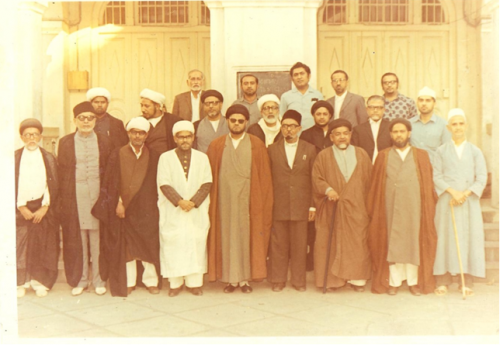 Above: First row left to right: Syed Ansar Husein Naqvi (from Dodoma), Maulana Alimohamed Dewji (from Dar es salaam), Maulana Sheikh Gulam Rasul Najafi (from Mwanza), Maulana Sheikh Ali Husein (from Kigoma), Syed Amir Husein Naqvi (from Majunga, Malagasy), Alibhai Mohamed Jaffer Dewji (Chairman Religious Board), Syed Murtaza Husein Rizvi (from Arusha), Syed Sibte Mohamed Zawarhussein Abdi (from Tanga), Syed Agha Mahdi (Bilal Muslim Mission).
Second row left to right: Maulana Sheikh Riyasat Hussein (from Singida), Maulana Sheikh Mirza Mohamed Mahdi (from Lindi), Maulana Syed Saeed Akhter Rizvi (Chief Missionary, Bilal Muslim Mission), Maulana Sheikh Mohammad Qasim (from Mombasa), Maulana Syed Sajjad Husein Zaidi (from Bukoba), Hasanalibhai Peerbhai Visram (Member, Religious Board from Arusha) and Bwana Ali Sheriff Dewji (from Arusha).
Third row left to right: Mohamedbhai Sheriff Jiwa (Member, Tabligh Board from Moshi), MohamedRafiqbhai Somji (Hon Secretary DSM Jamaat), Mohamedbhai G. Dhirani (President, DSM Jamaat), Ahmedbhai Hussein Sheriff Dewji (Member Religious Board from Arusha) and Anverali Sherally Jaffer (Councilor from Bukoba).

Source: Federation Samachar, Vol 30 Issue No. 3 of March 1997/Zilkaad 1417 AH
Secretariat Africa Federation Archives Section
28th June, 2016 (22nd Mahe Ramadhan, 1437 AH)
Reference: https://gallery.mailchimp.com/5496132269473a782cfb7b798/files/Archives_Bulletin_Down_the_Memory_Lane_Alim_Seminar_1973.pdf