A Charity Walk organized by the Dar-es-Salaam Jamaat to raise funds for Hospital - 1986
A CHARITY WALK ORGANISED IN DAR-ES-SALAAM ON 9TH FEBRUARY 1986
A Charity Walk was organized by the Dar-es-Salaam Jamaat Medical Sub-Committee to raise funds for a construction of Hospital for Dar es Salaam Jamaat. Marhum Alhaj Murtaza Lakha – Barrister at-Law was the Chairman of the fund raising committee.
Unfortunately the intended Plot could not be acquired from the Government and the collected amount was handed over to Dar-es-Salaam Jamaat for future hospital project.
Late Agha Sayyid Lavasani, the then Ambassador of the Islamic Republic of Iran in Tanzania led the walk which started from the Khoja Shia Ithna-Asheri Jamaat Mosque after Fajr prayers and ended at the residence of Alhaj Aunali Kassam in Migombele, Msasani area.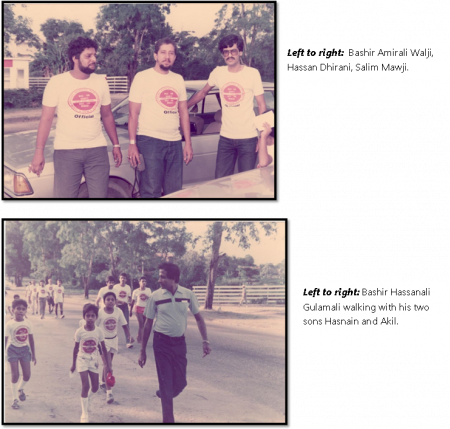 Elders of our community have always remained in forefront in Charity and in other Community events, this is a clear testimony of the strong Solidarity and Unity of the Khoja Shia Ithna-Asheris – This should be preserved
Please remember those who have passed away with Sura-e-Fateha.

Photographs – courtesy of Br. Murtaza R. Jivraj (Kerbala)

Secretariat
Africa Federation Archives Section
29th January 2016 (18th Rabiul Aakhar 1437 AH)
11th March 2016 (01 Jamadil Aakhar 1437 AH)
19th March 2016 (09 Jamadi –ul-Aakhar 1437 AH)
5th April 2016 (26th Jamadi ul Aaakhar 1437 AH)
Resource: http://africafederation.org/oldafrica/publications/archives/1317-africa-federation-archives-down-the-memory-lane-charity-walk-in-dar-es-salaam-in-1986