Africa Federation 2nd Conference 1949 (Mombasa)
Chairman Late Abdulhussein Noormohamed's Address
After about three and half years (3 ½) we are meeting for the 2nd Conference. I appreciate the Mombasa Jamaat's effort of hosting this conference with a warm welcome.
The first time we met in Dar-Es-Salaam in 1945, we established the provisional council to unite different Jamaats under one roof.
In 1946 we once again met in Dar-Es-Salaam to set the constitution and I can see the support, encouragement and enthusiasm from the Community.
In that conference we established the Federation and the Council's central body, we laid a foundation for brotherhood among our Community members, we created East Africa's one community and continued the society's business and religious activities.
I am here to inform you about the developments as well as the problems faced within this period. This will help us in our future plans.
The Central Council had introduced the following:-
1. The Census - Community population.
2. Birth and Marriage Certificates.
3. Higher education grant and scholarship (studying abroad)
4. Scholars for Tabligh.
5. Grant to acquire religious courses.
Other main programs which have not yet been followed up especially the "levy" and other despite of all the effort in 3 years, we have not been able to achieve it - the boarding house in Uganda could not be established like the one in Tanganyika.
According to our census records we are able to give you the figures for the Jamaat and their strength under the Federation. However according to my understanding every year this report has to be updated so the Council should have the account of the increased population. Whilst introducing the birth and marriage certificate we faced a tough discussion against it although the community then realized its importance, after the introduction of 1947 new immigration bill. In future it will be necessary and it is my sincere request to the community to register all their children and acquire the marriage certificates.
For higher education from 1946 up to date we have given a total of 7 scholarships and they have been pursuing good courses. At the end of 1952, two students will Insha'Allah complete their MBBS degree and on return to Zanzibar they will start practicing, the community will realize its importance.
As for the Tabligh project, Maulana Zaminhussein Saheb's travel report has been received by every Jamaat and by the grace of Almighty it has been a success, the required information is also available.
Arusha's Aalim Maulana Sayyid Razahussein has submitted his report but due to the load of work it is not completed.
Furthermore we are giving a grant for Arusha's religious scholar's salary. We have also granted a student from Kilwa teaching in Arusha's Government's school and another from Arusha studying in Mwanza.
A request from some Jamaats has been submitted to grant their resident scholars which will be discussed by the new Council's committee.
Despite of several reminders through circulars the Council has not yet received any request for higher education in religious courses, if there would be any, the Council would have definitely presented it. I don't find it very important to present all the communication of the Central Council's secretariat but whoever is interested to know about it the letters are in the file.
Comments: One will observe that Higher Education was give (since 1946) the same importance in the past by our Leaders, like what is presently the case, it is really amazing to see the far sightedness and the vision of our forefathers – May Allah (s.w.t.) grant them maghferat and rest their souls in the proximity of our fourteen infallibles – Masumeen (a.s.)
Translated by F. Ali
Extracted from "Rehbar" October 1949
Africa Federation – Archives Section
Past leaders of the Africa Federation and the Supreme Council Sessions in Mombasa and Dar-Es-Salaam.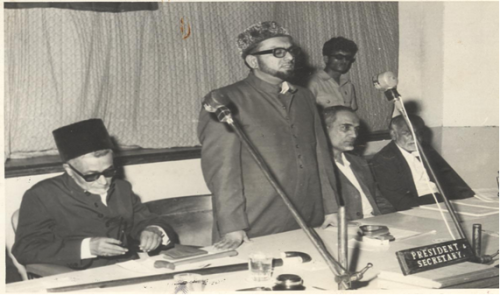 COUNCIL MEETING IN MOMBASA:

Late Al Hajj Mohammedali Meghjee (Chairman of Afed), Mulla Asgharali M. Jaffer (Hon. Secretary).
Late Al Hajj Karim and Late Al Hajj Mohammedali Shariff Jiwa.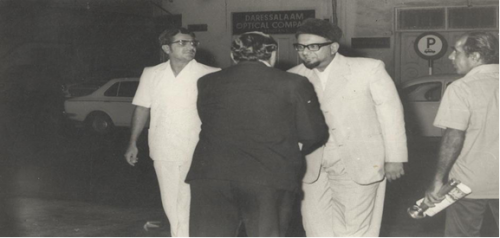 Council meeting in Dar-Es-Salaam:

Dar-es-Salaam Jamaat President Late Al Hajj Alibhai welcoming Late Mulla Asgharali, Chairman of the Africa Federation outside the Dar-Es-Salaam Mosque, looking on is Late Al Hajj Abbas Alloo and Late Hussein Jaffer Hirji.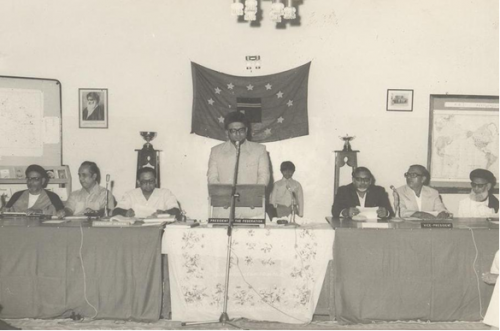 From left: Maulana Sayed Saeed Akhtar Rizvi, Al Hajj Haiderali Khimji, Late Al Hajj Bashir Peera (Administrative Secretary of Afed ), Late Mulla Asgharali (Chairman of Afed), Late Al Hajj Alibhai (President of Dar-Es-Salaam Jamaat), Late Al Hajj Abudlrasul Lakha (Vice President of Afed) and Sayed Aqa Haider Saheb (resident Alim of Dar-es-Salaam Jamaat). Photograph taken during one of the Supreme Council Sessions which was held in the Gents Imambargha in Dar-Es-Salaam in 1977.